My thanks to Mr Godsell who served as Acting Director of Identity during my recent Long Service Leave.
Mr Godsell attended the National Identity Leaders Conference in Canberra and supported Mr Bourke, the Social Justice Outreach Coordinator,  Ms Tahan as she launched Return and Earn and Mr Wilson as he prepared for the Assumption and Father's Day Masses.
Return and Earn Program at St Dominic's College – A Student Led Initiative
Term 2 has been busy for The Dom's Eco Group members with the planning of the Return and Earn Program. The first phase of the Return and Earn Program was launched during Week 8 of this Term.
Our Year 11 and 12 students will be leading the way for our juniors when the whole school implementation begins during Term 3.
The money collected from the Return and Earn Program will be donated to the following charities:
St Vincent De Paul
Beyond Blue
Red Cross
Cancer Council.
So keen are our student volunteers that they ensured the Return and Earn ran at our recent College Athletics Carnival.
Creating good habits, for a cleaner environment and a good cause is the focus for our Dom's Eco Group Team.
We thank our student volunteers and in particular, Ms Tahan who works tirelessly to ensure initiatives such as these come to fruition.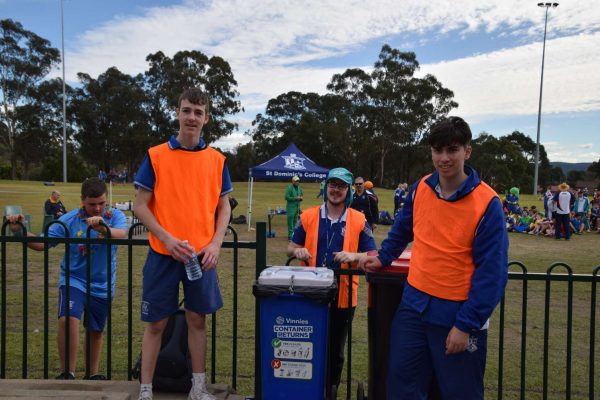 Surawski Beyond Blue Day
the jewel in the Surawski crown. A magnificent day, with so many staff and students pitching in to assist in running activities such as the Beyond Blue BBQ Breakfast, a pastoral lesson which addressed anxiety, depression and management strategies, the Festival of Personal Best at recess, and the crowd favourite – throw a sponge at a teacher at lunch.
The generosity of spirit within the St Dominic's College community was plain to see. We raised $1000.42 on the day, and every dollar raised was donated to Beyond Blue – a wonderful organization committed to improving mental health across our society. A sincere thank you to all who contributed to a brilliant day.