I quit wishing and 

started taking control 
When I had hope I quit wishing my life to be different.
Instead, hope gave me the belief that I can change it and the energy 
to take consistent action to just that.  I came to understand that 
my life at the present moment is not to be endured but lived. 
Sometimes the greatest discoveries about ourselves come through turmoil. 
Life is journey of self-discovery and often darkness leads to see with 
our soul not our eyes. 
Hope, When I didn't give up by David and Heidi Cushieri 
As we reflect on our College theme of 'Living Life with Hope' the above quote provides us with encouragement to live in the moment, discovery our true self and believe that we can change with a consistent approach to living.  During Lent, we are reminded to not turn away from the hope that God provides us but rather to seek his love, compassion and mercy.  As we move towards Holy Week we ask our God to provide us hope so that we can make this world a better place for all. 
Holy Week – Celebrating the Mysteries of our Faith
As we approach the holiest week of the Christian calendar, have you ever wondered why this week is called "Holy Week'?  
This is the week in which the saving mysteries of our faith unfold in Jesus Christ, the man.   
The week begins with Palm Sunday, then moves towards the Easter Triduum (Holy Thursday, Good Friday, Easter Vigil). 
Each day is significant in our understanding of God's love for us. 
Palm Sunday marks Jesus' triumphant entry into Jerusalem as a King.  We testify to how well people exalt Him and yet, as the scene unfold
s into Friday, the true nature of human emotions would be revealed.  Who within the crowd would still stick by His side in the moment of crisis? 
The Easter Triduum is one celebration of its nature in the Church's Liturgical Year.  The sign of the cross is made at the beginning of the mass of the Last Supper and no blessings until the final blessing at the Vigil Mass of the Resurrection. 
Holy Thursday begins a tense moment.  We celebrate Jesus' institution of two sacraments – Holy Orders and Holy Eucharist.  In washing the disciples' feet, Jesus commissioned them to a life of service.  In instituting the Eucharist, He commissioned them to make these mysteries continually present.  During the mass of oils in the Cathedral, the priests renew their vows to their bishop and the mass of the Last Supper celebrated in parishes. 
After supper, Jesus goes to the garden of Olives for intense prayer.  Jesus invites us to spend a moment with Him in prayer.  It is here that Judas finds and betrays Him with a kiss, meant to be a love gesture.  The arrest follows. 
Good Friday is 'good' because it holds the Hour for which Jesus came.  The crown that exalted His entry in Jerusalem now screaming out, "crucify Him!"  Jesus submits to the torture because He knows how much debt our sins have caused in God's love.  We draw this memory in the Stations of the Cross and the celebration of the Lord's Passion at the ninth hour (3 o'clock). 
Holy Saturday is a low tone day, waiting for the vigil celebrations.  As we mourn and try to comprehend the reality of Jesus' death, we join with the entire Church in prayer – Divine Office. 
Easter Vigil is the night in which light and life dawns.  Light emerges out of darkness, life out of the barrow of death.  Victory over sin and death
giving us new hope of eternal life.  Jesus emerges as a Saviour and Lord in the glory of the Resurrection.  Let us all celebrate these events with renewed and invigorated hearts. 
Each year we are reminded of the sacrifice of Jesus and that it was His love for us that is be celebrated on Easter Sunday.  Jesus is not just a memory but rather He lives within us and amongst us. 
May His love for all of us be experienced during this Easter period. 
The EREA School Renewal
(March 23 – March 25) provided an opportunity for all members of the community to feedback to EREA how St Dominic's remains authentic to the EREA Charter, The Touchstones and Blessed Edmund Rice.  Following three days of interviews with students, staff, parents and ex-students, the school renewal panel were extremely complimentary of how well St Dominic's remained committed to being a Catholic School in the Edmund Rice tradition.  As Principal, this made me so proud of all the efforts of our staff, students and parents in their support of The Charter and the four Touchstones of Inclusive Community, Gospel Spirituality, Justice and Solidarity and Liberating Education.  Once the final report has been finalised by EREA, I will make this available for our community so that we can all be proud of this great College.  There will be recommendations, but these will only provide a platform and a strategic direction to continue our quest in supporting and living the four Touchstones.  Thank you to all the staff, students and parents who supported the College during these three days.  Your support is greatly appreciated. 
E BLOCK
E Block has finally opened with the Occupational Certificate being issued mid-March.  It has been so fulfilling to see these new facilities being utilised by our students in particular our musical classes.   Over the first six weeks, our music classes have not been able to conduct practical lessons but they certainly have made up for this with the sound of musical vibrating through the E Block.  Year 12 were the first year group to experience the new lecture theatre (auditorium). This facility will become the central venue for our year meetings, presentations, performances and a variety of other functions.  This multi-purpose area will be a great addition to the already outstanding facilities we offer our community.  The new 'weights' room will be accessible to students from next term.  This functional learning facility will be available to Year 11 and Year 12 students during supervised sessions, PDHPE classes and other sports related programs.  Details of the use of this contemporary facility will be communicated to students early Term 2.  The new change rooms are exceptional.  I refer them to the 'Qantas Lounge'.  These will be used by our representative teams and PDHPE classes.  The new Copeland Street entrance will become operational from early Term 2.  These facilities are now the responsibility of all students to ensure they are well cared for so that current and future students can benefit from their use. 
Year 12 HSC Semester One Assessment Block
The Year 12 Semester One Assessments concluded on Friday, 1 April. Over the course of Week 10 and early Term 2, students will receive valuable feedback  informing them of how to continue their improvement journey.  This is also a great opportunity for parents and their sons to engage in dialogue 'Where to next?' in this learning journey so that they can continue improving upon their learning in partnership with school and home.  I look forward to discussing with the students their success and learnings from these assessments. 
DSE Reports
The Term 1 Diligence and Sustained Effort Reports will be emailed out to families during the school holidays.   I will be reviewing these over the holidays, so I am hopeful that most students have performed to the best of their ability.  This is a great opportunity for all students to re-evaluate their goals and review what they may need to improve in Term 2, therefore, setting new achievable goals.  I encourage all parents to maintain the communication with their son's teachers if they have any concerns.  Students who receive 100% in their DSE score will be invited to a Principal Morning Tea.  While students who have received a combined percentage of 85% will receive a Commendation Certificate at a Year Assembly during Week 1 or 2 of Term 2.  Likewise, students whose performance is below the expected standard will receive a Letter of Concern requesting an interview to discuss ways of improvement for Term 2. 
Student/Parent/Teacher Interviews
SPT Interviews will return this year to either the normal format or a hybrid version.  The Years 11 and 12 interviews will be conducted at the College on Wednesday, 16th May, while the Years 7 to 10 interviews (a hybrid model) are scheduled for Monday, 10th May.  Information regarding the online booking of these interviews will be provided to all families early Term 2.  This is a great opportunity for parents to arrange to meet their son's teachers and discuss the son's current progress. 
Mother's Day Mass
The annual Mother's Day Mass will be celebrated on Wednesday, 4th May.  Our Mother's Day Mass has become an integral part of the College and I would encourage all mothers, grandmothers, aunties or any significant women in our son's lives to be part of this celebration. This year we will commence our support of the Cancer Councils 'World's Biggest Morning Tea'. Invitations have been sent out via emails and a hand delivered invitation to all students.  We ask that you RSVP by 22nd April so that we can arrange the morning tea. Click on the link below to RSVP: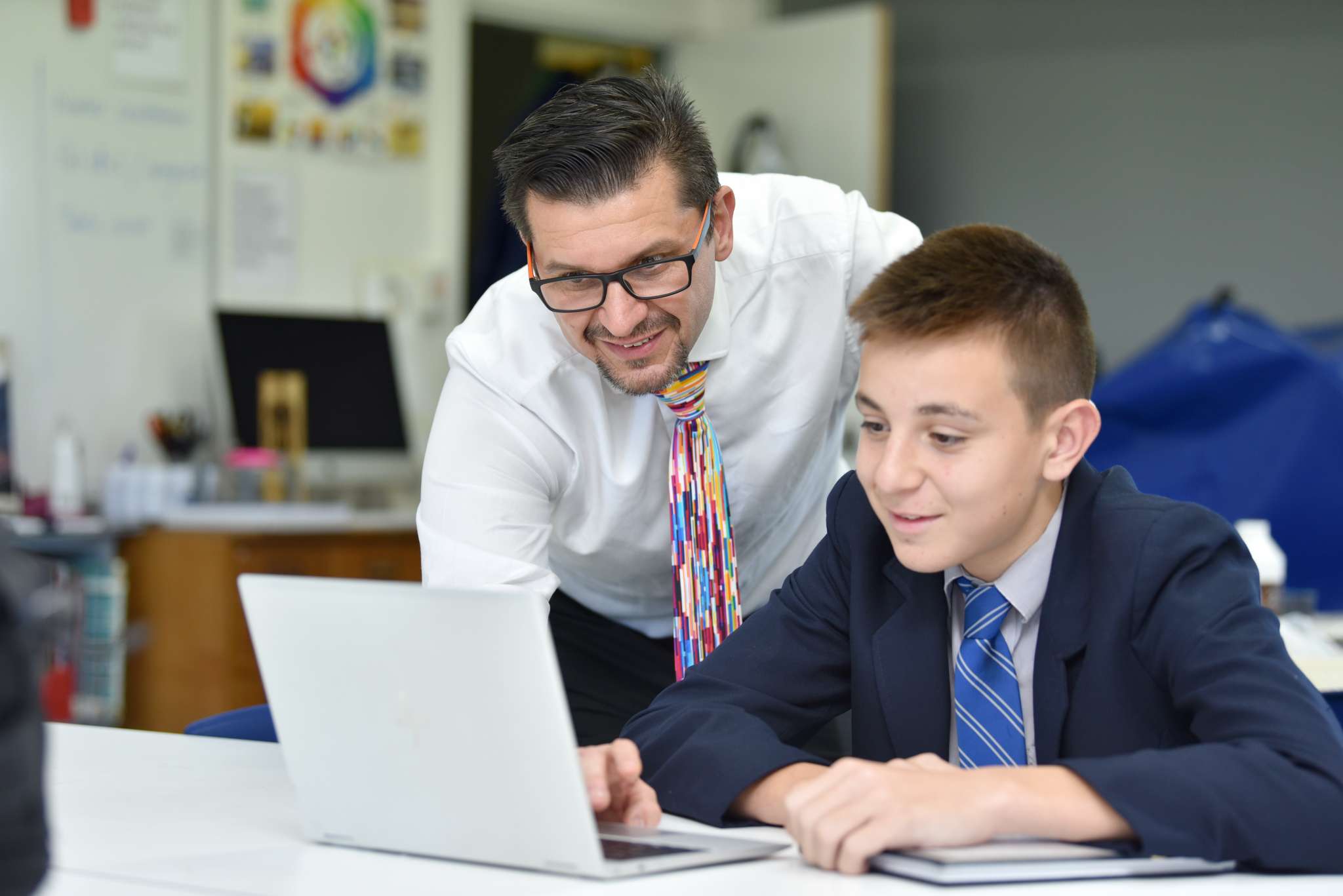 On behalf of the College, I would like to thank Mr Steve Lewis for his outstanding contribution to  Visual Arts and Drama at the College.  Mr Lewis has been instrumental in the establishment of the Ceramics Room, the Photo and Digital Room and the upgrading of all the art facilities. His diligence in developing these areas has provided our students with the opportunities to showcase the immense creative talent that exits within the College.  His promotion of the arts, in particular, has been inspiring not only for the students but for all members of the community. 
The great relationship between Caroline Chisholm and ourselves is due to the passion and commitment of Mr Lewis.  The HSC Showcase, the Creative Arts Showcase and the Lewin Art Gallery partnership are three highlights that Mr Lewis was able to promote our students and their creative work.  One of the most significant highlights has been the number of students who have had their Major Works presented at HSC ARTEXPRESS. 
This acknowledgement from NESA, is a true testament to the outstanding contribution Mr Lewis has made to the promotion of the creative and performing arts. Mr Lewis has accepted a new challenge at Penrith Anglican College as the Creative Arts Coordinator.  I know that this was a difficult decision for Mr Lewis but after 13 years he believed he needed another challenge.  On behalf of the College, I would like to thank Mr Lewis for his passion and commitment to the students of the College and to their creative talents.  We wish you and your family all the love and happiness and may God keep you in the palm of his hands.  Until we meet again, God Bless. 
St Dominic's College Open Day
The College Open Day was an outstanding success not only because we were blessed by fine weather, or that over 450 people were welcomed to the College
but because of the amazing young men who supported us throughout the day.  There were over 150 students who volunteered to act as tour guides or support the KLA faculties in their presentations.  This overwhelming support by the students demonstrated very clearly to all those who attended Open Day that the students do love their school and enjoy being part of this inclusive community.  It is their voice that honestly promotes the College for all future families.  I would like to personal thank both staff and students for their support of Open Day.  
PDSSSC Sport
Our involvement in the PDSSSC Sport programme has commenced with some outstanding achievements by our swimmers, basketballers, cricketers, and golfers.  Though much has not changed from previous years there have been many learnings in the partnership between the College and PDSSSC.  If some of these learnings have impacted on any of our students I would like to apologise but please be mindful that we are undergoing significant administration changes and that we will endeavour to support our students in their sporting endeavours.  I thank all students, parents and staff for the patience and understanding.  I am incredibly proud of the outstanding results from our recent Basketball Grand finals along with the CSNSW Swimming carnival.  Good luck to all students who are trialling for the upcoming Winter season – Rugby League and Football.   The weather is not overly supportive at the moment but hopefully we will be able to undertake trials and commence Term 2 with the full complement of teams. 
EREA Open Football Tournament
The EREA Open Football Tournament in Brisbane will run during the first week of the school holidays.  After last years success reaching the Grand Final, I know both staff and students are looking forward to going one better in 2022.  Not only is this a great football opportunity, it also provides the students significant learnings such living with others, living away from the comforts of home, developing relationships and valuing and appreciating what they have.  Regards of the results, I know the students will truly benefit from the experience. 
The month of March has been inundated with activities and co-curricula events such as: 
It is so pleasing to see how both staff and students engage in such a variety of activities.  Congratulations to everyone for their involvement and contribution to these events.   
As Term 1 approaches its conclusion, I would like to ask some questions for our students to reflect upon based on my opening College address.  How does your scorecard look when responding to the following: 
Have you been an agent of change?

 
How have you advocated for peace and justice in your daily life?

 
How did you participate in service and solidarity for those on the margin?

 
Have you genuinely worked towards a sustainable future? Did your rubbish go in the bin?

 
How have you reflected on your term and have your prayed for justice and peace?

 
We are all encouraged to review and reflect on out commitment to the College theme.   
May we all continue to live life with hope. 
Dominus Lux Mea 
Mr Michael Ronchetti 
St Dominic's College Principal